Getting there
The Melbourne Museum is located at 11 Nicholson Street, Carlton, VIC 3000.
Contact Info:
General queries: 13 11 02
Road to Zero enquiries: (03) 8341 7150
roadtozero@museum.vic.gov.au
Museum Map: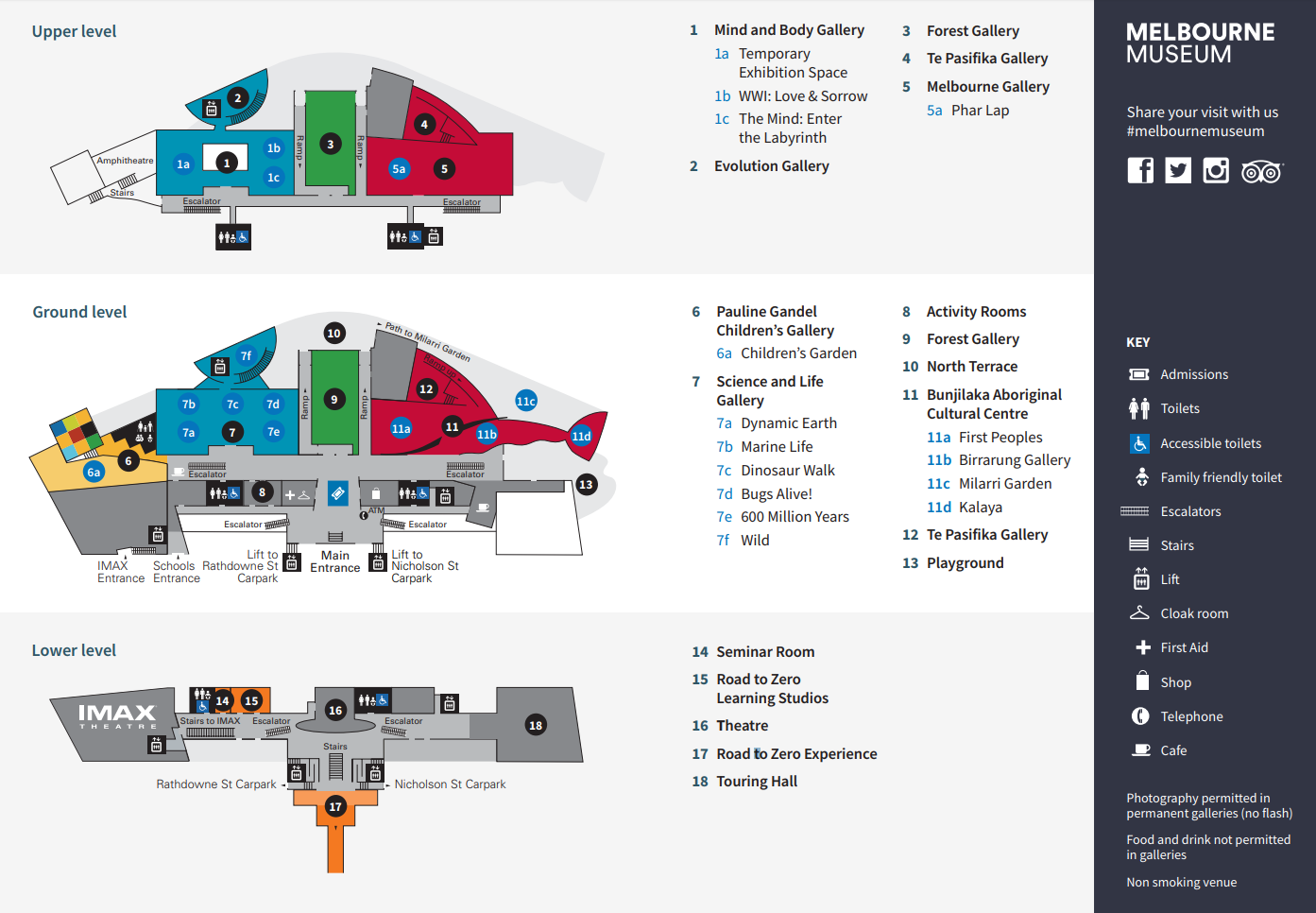 Getting here:
A bus drop-off zone is located on Market Street. Please note that buses may only stop for 15 minutes at this location. The Melbourne Museum is a ten minute walk from Parliament Station (Lonsdale Street exit) or accessible via Yarra Trams (Tram 86 or 96 to the corner of Nicholson and Gertrude Streets).
Accessible parking spaces are available on Level P2 of the carpark with lift access to the Museum entrance.
Melbourne Museum does not permit large school bags to be taken into the Museum spaces. Please leave all school bags at the schools entrance located next to IMAX.
We recommend you arrive a minimum of 15 minutes prior to the commencement of your booking to allow sufficient time to cloak school bags and any items at the schools entrance (west of the main entrance).
The Road to Zero Experience Space and Learning Studios are located on the lower ground floor of the Melbourne Museum and can be accessed via the IMAX lift located next to the schools entrance.
Accessible toilets are located on all levels of the Museum.
Student to staff ratio
The recommended ratio is 1:10 for secondary groups. Teachers receive free admission into the Museum.
Lunch and break facilities
Melbourne Museum has several break-out spaces for school groups that are suitable for all weather. Lunch and snacks can be purchased at the Museum café. Please note, all school bags and food must be stored at the schools entrance.
Risk Assessment
Museums Victoria has public liability insurance cover of $850 million and a copy of our insurance policy can be provided on request. Museums Victoria is committed to promoting child safety and can provide a copy of our Child Safe Policy on request.
We can provide further information for teachers and schools if you need to develop a detailed risk management plan for your excursion to the Melbourne Museum.
First aid
The Melbourne Museum has a number of qualified Level 2 first aid staff located at the venue. Please see a member of the Road to Zero program staff if you require first aid assistance.
Emergency procedures
All Road to Zero staff are trained in Emergency response and will act as Emergency wardens in the case of an emergency. Emergency evacuation procedures and maps are located throughout the building. At Melbourne Museum the alert alarm can be identified by a 'BEEP BEEP' tone which all wardens will respond to, with no action required by Museum visitors. The evacuation alarm can be identified by a 'WHOOP WHOOP' siren. In the event of an evacuation, all Museum staff and visitors are required to assemble on the Rathdowne Street end of the Museum plaza.
Important information about the Road to Zero Experience Space
Please note that some interactives in this space contain low light levels, motion-inducing actions and 3D virtual reality. These may not be suitable for those suffering from dizziness, epilepsy or binocular vision conditions. If you or your child have these conditions, do not participate in these interactives.
We recognise that some students may have personal experiences with road trauma. Please note that Road to Zero does not include any graphic depictions of road crashes or injury, and takes a constructivist approach to building understanding and positive behaviour change.
However, the subject area may be a trigger for some students. Please discuss the visit with any students and family members who have been personally affected by road trauma. In the event of a trigger reaction, trained Road to Zero staff will be on hand to assist.